May 2, 2017
Bob Swayze: Lost 50 Pounds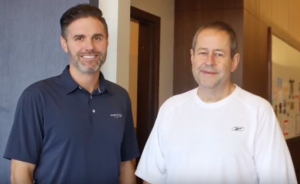 Bob Swayze had become the heaviest he'd ever been and was experiencing joint pain. He decided the weight was taking a toll on his body, and he feared how he'd feel at 70 based on how bad he felt at 60. Intrigued by one workout in just 20 Minutes a Week, he decided to try Exercise Inc.
After describing his goals and what he wanted to accomplish with his trainer, Kyle, during his initial consultation, Kyle discussed how the program at Exercise Inc could help Bob through exercise and a change in diet.
Find out how far Bob has come in 18 months with Exercise Inc, and how close he is to accomplishing the goals he initially set for himself. With hard work, he's determined to reach his goals, and maybe even exceed them!
Ready to see what 20 Minutes A Week can do for you?
Give us a call today at 317-750-2219.