January 30, 2018
Mark Wolf: Ditched His CPAP Machine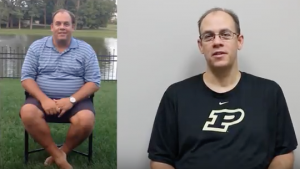 At forty-nine, Mark Wolf was overweight and dealing with sleep apnea. His doctor told him the sleep apnea was probably the result of his excess weight. He prescribed a CPAP machine for Mark, but told him he could probably get off of it if he lost the weight.
At the same time, Mark noticed several of his co-workers were feeling better and losing weight doing a program that only takes 20 Minutes A Week. At the encouragement of his co-workers, Mark decided to give Exercise Inc a try.
A couple years later, and 90 pounds lighter, Mark no longer uses a CPAP machine. Check out his story to hear how 20 Minutes A Week changed his life.
Ready to see what 20 Minutes A Week can do for you?
Give us a call today at 317-750-2219.