July 8, 2016
Client Spotlight: Meet Bob Donahue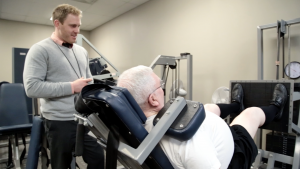 Bob Donahue has been a member of Exercise Inc since June of 2012.  As a funeral home director, Bob's job requires a decent amount of physical labor. As he aged he began to notice how difficult it was for him to continue doing his job. He knew he needed to start working out but didn't know where to start.
Bob heard about Exercise Inc while listening to Denny Smith on WIBC. Denny was doing an on-site radio spot at our Avon gym and Bob deiced to stop by to, "see the facility and shake (Denny's) hand."
By coming to Exercise Inc, Bob has been able to regain strength in his arms and legs. When he started he was pushing  between 40 and 50 pounds with his back and now he's pushing over 270 pounds! Bob says the workouts have made a huge difference in his ability to do his job.
Bob's coach, Cory, has been an amazing support system for Bob during his workouts. From the time they first met Bob felt that Cory was very personable and easy to talk to. He says they hit it off right away.
During his four years at Exercise Inc Bob has continued to tell friends about how great his experience with us has been. Bob loves everything from the privacy of our gyms to the attention to detail our coaches have with our clients.
Bob says Exercise Inc is, "the greatest thing I've found when it comes to physical improvement. It's personal, and I appreciate that."
Are you ready to see what 20 minutes a week can do for you? Give us a call today at 317-750-2219 to find out more.