August 30, 2016
Client Spotlight: Meet Byron Plexico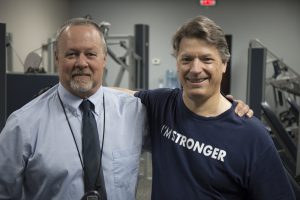 Byron Plexico is a professional musician, who plays and teaches for a living. He has a very busy schedule, which means he has little time for exercise. When he heard that our program is only 20 minutes a week he was a little uncertain and skeptical that it could be true. After starting the program he realized that 20 Minutes A Week will get the job done.
The demands of being a professional musician are pretty intense. Byron's goals were to get stronger and gain more endurance. He's been able to achieve both of those goals in only 20 minutes a week. In fact, our program has exceeded his expectations.
Check out the video to see how Exercise Inc has been able to help this professional musician get stronger and feel better.
Ready to see what 20 Minutes A Week can do for you?
Give us a call today at 317-750-2219.