March 31, 2016
Client Spotlight: Meet Tim Murphy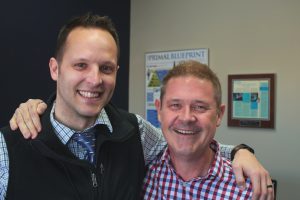 Tim Murphy has been coming to Exercise Inc since the summer of 2014. Tim went to his doctor for his annual physical, and the doctor said, "I'm just going to be blunt. You're too fat. You're too young to be this fat. You're not in good shape. Your cholesterol is sky high. Your blood pressure is sky high. You have to do something! I don't care what you do but you've got to get moving. You've got to get that weight off."
Tim knew everything his doctor was saying was true, but reality really set in when he visited his tailor shortly after seeing his doctor. As his tailor was measuring Tim for a new suit, he told him that he was going to have to tailor his suit up from his previous one to a 40 in the waist. Tim told the tailor, "No you're not!" That was the moment he knew he needed to do something.
As an avid listener of WIBC, Tim had heard our local advertising for Exercise Inc and decided to check it out. When he first learned about the 20 minute workout once a week, he was skeptical. But he decided to give it a shot.
Tim made an appointment at the Zionsville gym and was introduced to Kyle, one of our coaches. Tim and Kyle sat down and discussed what Tim's goals were in coming to Exercise Inc, what he was hoping to get out of it, and what he wanted to achieve. After their meeting Tim scheduled his first workout for just a few days later.
When Tim first started with Exercise Inc, the workouts were challenging, and six days in between workouts almost didn't seem to be enough time to recover. But now Tim looks forward to coming to Exercise Inc. It's a highlight of his week.
Since joining Exercise Inc Tim has lost over 60 pounds and went from a 40 in the waist to a 30. Tim says the difference between Exercise Inc and any other gym he's tired is his coach, Kyle. He can't imagine doing the workouts each week without having Kyle by his side.
Tim said, "You don't get encouragement from a treadmill. You get encouragement from somebody who believes you can do something even when you don't believe you can do it." We couldn't agree more.
Are you ready to see what 20 minutes a week can do for you? Give us a call today at 317-750-2219 to find out more.