June 24, 2019
Jen Huckaba: She Got More than She Expected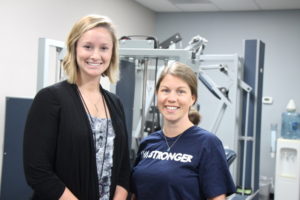 Jen Huckaba is a busy stay-at-home mom. Like most busy moms, she really didn't have much time to exercise after spending all day caring for three young kids.
Still Jen wanted to do something to improve her health. She wanted to feel stronger and have the energy to keep up with her kids. A friend told her about Exercise Inc. She really didn't think it would work, but she decided to give it a try.
After just 12 weeks, Jen feels a lot stronger and she has much more energy. And Jen got something else from Exercise Inc she didn't expect. Her weight is the same, but she's down a pant size.
We know strength training can help you build muscle and lose fat at the same time. When someone loses a pant size without losing weight, we know we've done that. What's even more impressive? Jen didn't change her diet. She just worked out 20 Minutes A Week!
This busy mom had to buy some smaller clothes after just 12 weeks!
Listen to Jen's story about how 20 Minutes A Week has changed her life!
Ready to see what 20 Minutes A Week can do for you?
Give us a call today at 317-750-2219.