June 12, 2018
Joan O'Connor: Battling Breast Cancer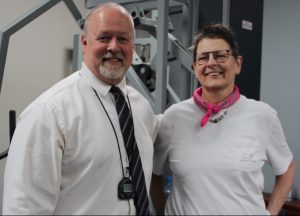 Joan O'Connor was looking for a gym where she could build strength. She was skeptical that 20 Minutes A Week would actually work, but she found our claim to be true—she's been with us 14 years.
Joan was diagnosed with breast cancer in 2016. After a year of treatments, her cancer went into remission for about 6 months. Last year, she was surprised to find her cancer had returned; this time she was told it had progressed to stage IV, meaning the cancer had spread to other areas of her body. Stage IV breast cancer can't be cured, but it can be treated.
Joan has continued her weekly visits to Exercise Inc throughout her treatments. Our program has helped her battle cancer by enabling her to maintain her strength during her chemotherapy. This is important because patients undergoing chemotherapy for breast cancer typically lose muscle. A study published just last month (May 2018), found that strength training during chemotherapy for breast cancer preserves muscle size and strength.
We have also been able to help Joan manage chronic neck and back pain. She has no plans of stopping our program. It's one of the things that keeps her going.
Ready to see what 20 Minutes A Week can do for you?
Give us a call today at 317-750-2219.