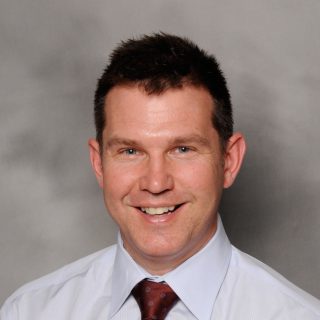 Education
Where did you go to college? Oakland City University
Major Biblical Studies
Year Graduated 1987
Personal
Where did you grow up? Mt. Vernon
What town do you live in? Brownsburg
Married/Kids? Stephanie Railey, Cole is 2, and Lillie is a newborn.
Do you have any pets? Chocolate Lab named Boss, Morkie named Bentley.
What are your hobbies? Fishing, hunting, waterskiing, and gardening.
What is your favorite sports team? Colts and IU Basketball.
What is a fun fact that most people don't know about you? In the 90's I placed second in the Mr. Central Indiana bodybuilding competition and I won a state championship in powerlifting.
What is your favorite type of music? I like both kinds, Country and Western. Ha! Actually I like a wide variety of music.
What is one of your lifetime goals? To change the way the world thinks about exercise.
As A Part of The Exercise Inc Team
What brought you to Exercise Inc? I started Exercise Inc in 2004 with the goal of providing a professional environment with a first class team dedicated to helping people become stronger, healthier, and more energetic.
What year did you become part of the team? I actually started the personal training business that has evolved to become Exercise Inc in 1993. The original name of the business was Railey Personal Training. Everyday has been a fun adventure.
Why do you like being part of the Exercise Inc team? I have a passion for helping people. I enjoy helping clients reach their goals. We've had some amazing success stories. I also enjoy hiring and developing new team members. I am very lucky to be surrounded by such a great group of people who are passionate about changing peoples' lives through exercise.
What is your favorite exercise? Why? Leg Press: I like the pain.
What is your least favorite exercise? Why? Timed Static Contraction Fly: I hate squeezing that cylinder. Sometimes I feel like my chest is going to explode during the exercise.
Anything else you want your clients to know about you. My journey through life has taken me down a path I never expected. I've made mistakes along the way, but I've always considered mistakes to be opportunities to learn.

At the end of the day, the things that matter most are strong values and a devotion to God, family, and friends. If you combine those two with hard work, anything is possible.