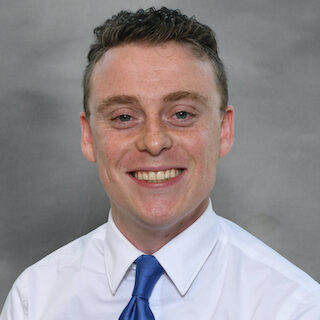 Education
Where did you go to college? University of Indianapolis
Major Exercise Science
Year Graduated 2019 – BS, 2020 - MS
Personal
Where did you grow up? Franklin, IN
What town do you live in? Brownsburg
Married/Kids? Married on September 10, 2022, to Rebecca Tripp

Do you have any pets? 2 cats (Oreo and Blackjack) and a Sheltie dog (Mia)
What are your hobbies? I enjoy reading Christian books, spending time in the outdoors (i.e. hiking, kayaking, golfing), and going to my various small groups for church

What are your favorite sports teams? Kansas Jayhawks (College Basketball), Cincinnati Reds (MLB), Indianapolis Colts (NFL), FC Barcelona (Soccer) and Notre Dame (College Football)

What is a fun fact that most people don't know about you? I am a triplet
What is your favorite type of music? Christian and Country

What is one of your lifetime goals? Use my God-given gifts and abilities to further serve others and bring God the ultimate glory

As A Part of The Exercise Inc Team
What brought you to Exercise Inc? I have two degrees in Exercise Science and it was something that piqued my interest. We didn't learn about SuperSlow in college, so it was something I wanted to learn and understand further.

What year did you become part of the team? April 2022

Why do you like being a personal fitness coach/part of the Exercise Inc team? I enjoy interacting with people one-on-one to further understand why they are here and figuring out what I can do to help them reach their goals.
What is your favorite exercise? Why? The hip abduction and adduction exercises. These exercises are great as they strengthen muscles in the inner and outer areas of the hip that are overutilized and often under-exercised.

What is your least favorite exercise? Why? The leg press is my least favorite exercise. It is the most difficult of all the exercises so during the three minutes, my legs will shake and quiver, but it has the best feeling of burn afterwards.