October 14, 2019
Steve Johns: World-Class Cyclist At Age 64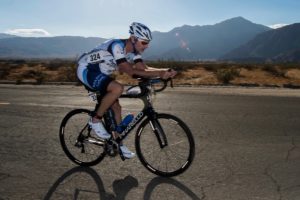 Steve Johns is a 64-year-old corporate executive who first heard about Exercise Inc from his wife about 12 years ago. He was experiencing knee and back pain, as well as having some balance problems. He hoped to change those deficiencies by strengthening the muscles around his joints so he could get out and be active again.
In 2012 Steve started participating in long distance endurance cycling. His 20 Minutes A Week allowed him to push as hard as he wanted in the gym and still be recovered enough for the miles he put on the bike.
In 2015, Steve got serious about ultra-cycling. He joined the World Ultracycling Association and began racing all over the country in 12- and 24-hour races. Steve has finished first or second in his age group in 13 of those races. He is currently ranked 3rd in his age group and 4th overall in the World Ultracycle 12-Hour Race Series.
Steve says Exercise Inc has taught him that you can push yourself to stay vital and fight back the aging process. He loves that he's been able to build a lot of strength for cycling and never get hurt. His 20 Minutes A Week has helped him feel younger than he did 12 years ago. And even though he's in his mid 60s, he's still building muscle mass.
Check out Steve's Exercise Inc story!
Ready to Change Your Life In 20 Minutes A Week?
Give us a call today at 317-750-2219.