January 11, 2018
Quit Making Excuses
The following is a guest post from one of our clients, Tim Murphy. Since he began training with Kyle at our Zionsville location in 2014, Tim has lost over 70 pounds, reduced his waist size from 40 to 28 and reduced his suit size from 48 portly to 38 slim, among improvements to other key health metrics. To hear more about how 20 Minutes A Week has benefited Tim, check out his Client Spotlight.
Now that we've turned the calendar on the New Year, we're being barraged with advertising from the chain gyms and other workout facilities, all hoping to capitalize on the guilt of December's overeating and weight gain. You're hearing about the "dollar a week" specials, no long-term contracts, and other hyped gym membership programs, all promising to get you in shape, thus reforming you from the gluttony you indulged over the Holidays. And then by March, those who signed up with various gyms have stopped attending, and their behaviors are back to status quo. Sound familiar? It does to me, too, because I did the same thing before discovering Exercise Inc.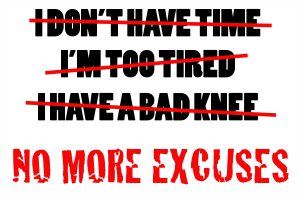 I had every excuse for not working out; "It's too cold outside"; "the roads are snowy"; "it's too far"; "I'm too busy at work"; and on and on. I suspect many – if not most – people are like that too. I wish I would have skipped this 5-month step of failure and headed right to Exercise Inc. in the first place; however, better late than never.
I have many friends who tried other regimens who are now Exercise Inc. clients, and we have shared our experiences of failing elsewhere. From these discussions, I offer the following list of excuses for not working out, and how Exercise Inc.'s unique approach to fitness and health invalidates every one of them.
Excuse # 1 – "I don't have time." I bet you have 20 minutes a week to spare to achieve your health and fitness goals. Most people spend more time than that in the shower, making the morning coffee, or walking the dog. You don't need a lot of time to be successful, just a desire and a drive.
Excuse # 2 – "I am intimidated by the crowded gym." While the other programs you may have tried were crowded and noisy, Exercise Inc is the polar opposite. You don't need to worry about whether or not your "form" is good, or whether you are doing it right. Your coach is there, every second, to ensure you are doing the exercises correctly and safely. And there will likely be no more than two other people in the studio when you are. It's completely private and personal.
Excuse # 3 – "I don't like to get overheated or sweat." You won't do that here. It's not about number of reps, or moving quickly; rather, it's slow, purposeful, and effective. The studio is kept at a comfortably cool temperature, and if you do get warm, there's a fan at each machine. No sweat (pardon the pun, please!)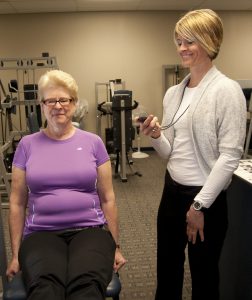 Excuse # 4 – "I don't like exercising alone." You aren't alone at any time during your workout session. Your coach is with you every second; no exceptions. And your coach isn't just physically present; he/she is monitoring your exercises for safety, giving you encouragement, and reinforcing your goal attainment.
Excuse # 5 – "Exercise is boring." It's not at Exercise Inc, for various reasons. First, each exercise only lasts around 2 minutes or so. The entire weekly session is 20 minutes or less; and the intensity of these slow-cadence exercises is an invigorating, muscle-building experience. Boredom simply is not possible.
Excuse # 6 – "I'm slim already." Exercise Inc isn't exclusively about weight loss (even though many of the clients initially call because they want to lose weight). These exercises build muscle mass and increase strength, which contributes to overall health. In addition, with this regimen, you'll likely not gain weight and/or fat as you age.
Excuse # 7 – "I'm too tired." The more you regularly exercise, the more energy and focus you will experience. Medical studies have borne this out repeatedly over the years. The great news is that the longer you engage your 20 minutes a week, the sharper you'll be. Imagine how alert and focused you'll feel six months from now!
Getting started on any new project is always the toughest part. It's a natural human tendency to rationalize not doing what we inherently know we should. And engaging a fitness regimen is no different. But all the negative aspects associated with "working out" you hear from your friends simply don't exist at Exercise Inc. After deciding Exercise Inc is the right program for you, you'll quickly learn that your sessions evolve from a "have to" to a "want to".
So let's do this; you're out of excuses.