October 27, 2021
Some Amazing Success Stories
Exercise Inc has been helping people Change Their Lives in 20 Minutes A Week for almost 18 years. Since 2013 we've helped our clients lose more than 33,000 pounds, but that's just the tip of the iceberg. The real success comes in the way we've helped hundreds of our clients improve their health.
Last year we started celebrating some of our amazing client success stories by making a weekly "Transformation Tuesday" post on Facebook. Many of our transformations have to do with weight loss—but most of them involve helping clients improve their health or allowing them to function better in their daily activities.
We realize that many of you may have missed some of these incredible stories, so we wanted to share some of them with you directly. We feel strongly about this because learning from and seeing the success of others who've walked where you are walking can be very motivating.
If you haven't already, Like our Facebook page so you can experience the motivational effects of these transformations each Tuesday.
Anne Judd was diagnosed with osteoporosis six years ago. She started training at our Avon location because she wanted to strengthen her core and improve her flexibility as she aged. As a mom and grandmother who works full-time, our 20 Minutes A Week fit perfectly with her busy lifestyle. Not only has Anne gotten stronger and more energetic, but her last bone scan also showed her bone mineral density has greatly improved.
Our program has given Anne the strength and flexibility to easily play on the floor with her grandchildren. She says, "quitting Exercise Inc is not an option for me. It has been one of the best things I've ever done for my health."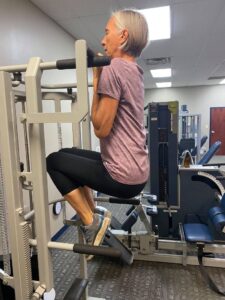 Six years ago, Dan Craig started training at our Greenwood location because he suffered from chronic back pain. As a busy business owner, our 20 Minutes A Week worked well with his hectic lifestyle. Dan has gotten significantly stronger and more muscular. And he no longer suffers from back pain at all.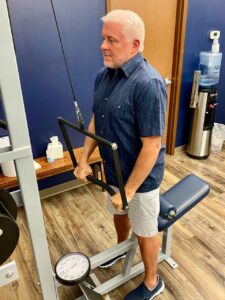 Karl Zimmer has been an Exercise Inc client for 16 years. In 2015, Karl experienced a third-degree heart block. The ER doctor told him that his devotion to his routine at Exercise Inc helped save his life. In 2019, Karl was diagnosed with stage 3 colon cancer. He began chemo in March of 2020. Karl attributes much of his success in getting through chemo and beating cancer to the strength and stamina he gained at Exercise Inc.
Karl says that, for him, training at Exercise Inc is about "gaining strength and stamina to live life and making everyday activities easier." Exercise Inc and coach Kyle Morrison have made Karl's life more enjoyable. They also saved his life. Karl is a board hypnotist and a best-selling author. You can connect with Karl at www.iruletheworld.com.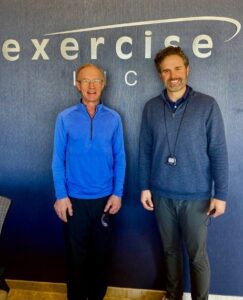 Glenn Grabow is 88 years old and has strength-trained at Exercise Inc for 12 years. Glenn works 20 hours a week. He's also building a new house and setting up his farm to raise apples and vegetables. He recently fell four feet and landed flat on his back. He was able to get up and continue working because of the strength he's gained at Exercise Inc. Glen feels as strong as he did at 65. He's still able to bend over and touch his toes.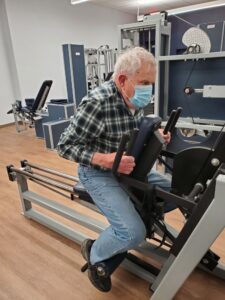 Rick Witsken is the owner of Team Witsken Tennis and Pickleball. He's also the #1 ranked pro senior men's pickleball player in the world. Rick started training with us to prepare for the grueling professional pickleball season, and he continued his weekly workouts throughout the season because he says they are exactly what he needs to strengthen his legs while protecting his joints for the stress they take during high-level pickleball tournaments. As a business owner, tennis and pickleball coach, and professional athlete, his 20 Minutes A Week are the best way to build his strength despite his hectic schedule and frequent travel.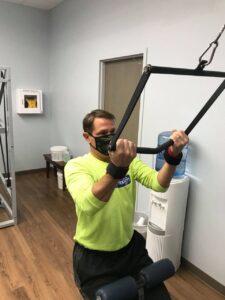 All of these amazing transformation stories are on our Facebook page. If you haven't liked us on Facebook, please do. Every Tuesday we post a new Transformation Tuesday story about how someone has changed their life in only 20 Minutes A Week at Exercise Inc.
All of the clients in these stories made dramatic changes in their lives by strength training with us 20 Minutes A Week and following our Simple 9© nutritional program. The Simple 9© is an educational program in which we coach our clients to adopt the 9 most important habits they need to help them be healthy, lose weight, and keep it off long term.
Our approach is slow and steady. Most of the stories we've shared with you are from clients who've spent years training with us. Almost all of our clients see health changes of some kind after 3-4 months, and some experience dramatic changes within the first year. But the greatest improvements come from consistent, long-term training. One of the best things about our program is it's easy to stick with for life because it only takes 20 Minutes A Week.
If you're not getting in for your 20 Minutes A Week, call us today. Who knows, you could be our next success story.
Stay Strong,
Bo Railey
P.S. You might not know that each of our gyms have their own Facebook page where coaches post information specific to their gym. If you haven't done so already, please click the appropriate link below to go to your gym's Facebook page. Make sure you like the page. Heck, go ahead and like them all, if you "like."