June 30, 2023
How to Have a Simple 9© Fourth of July
Get out the corn hole, fire up the grill, break out the solo cups, and bring on the fireworks; it's time to celebrate our Independence. Fourth of July is the great American holiday when we take time to appreciate the fact that we live in the land of the free and the home of the brave.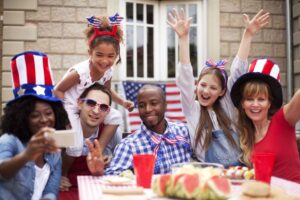 The National Retail Foundation predicts that 87% of Americans will do something to celebrate Independence Day this year. A record 42% of us will watch some sort of community fireworks celebration. And 65% of us will attend a cookout or picnic. But let's talk about the food—Americans will spend $93.34 per person on food items for Independence Day this year.
Your Independence Day celebrations will most likely start on July 1st and continue through July 4th. For many of us, that's several backyard cookouts and/or picnics. The eating and drinking can get out of control very quickly. We offer a few tips to help you keep things in check.
Make it Fun with Sparkling Water
Everyone likes to have a cool drink they can put in a koozie at the party. Cans of sparkling water are perfect for this. My kids go nuts when they get sparkling water. It's almost like a placebo for sugar (but there isn't any sugar).
Make sure you read the label. Some sparkling waters have sugar or artificial sweeteners—don't buy those. My top choices are La Croix and Waterloo. We'll serve Waterloo Summer Berry in Red, White, and Blue cans at our house on the Fourth.
Cook Brats Instead of Hot Dogs
Hot dogs are the number one food consumed in America on the Fourth of July. The biggest problem with hot dogs…the bun. Contrary to popular opinion, not every hot dog needs a bun with ketchup, mustard, and relish. Not only do the grains in the bun cause inflammation, but they will also increase your blood sugar, insulin, and fat storage.
Even without the bun, hot dogs have a lot of other issues. Those Oscar Mayer wieners are made from Concentrated Animal Feeding Operation (CAFO) cows, pigs, and poultry who ate corn and soy diets that make them sick and disrupt their fatty acid profiles. Every bite contains bits and pieces of hundreds of individual animals who never had the opportunity to walk on grass. But the biggest concern is the nitrates and nitrites—additives used to preserve and enhance the color of processed meats. During the cooking process or digestion, they form nitrosamines, which researchers have linked to an increased risk of colorectal cancer.
Bratwursts are less processed than hot dogs, and they contain fewer preservatives and additives. Hog dogs can last for weeks in your fridge, while brats will spoil in a few days. The other great thing about brats—they taste great without a bun. Just add mustard and relish.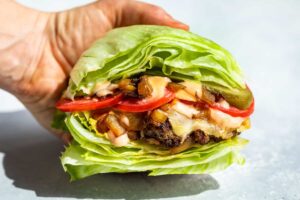 Enjoy Your Burgers with Lettuce (No Bun)
Hamburgers stand number two on the list of meats that Americans will sizzle on those Fourth of July grills. Burgers are great, especially with cheese, tomatoes, onions, and pickles. The only problem…again, the bun (do you see a pattern yet?). I started using lettuce instead of a bun for my burgers a long time ago. Once you try this, you won't want your burgers any other way. Iceberg lettuce works great, but my favorite lettuce for burgers is Gotham Greens Baby Butterhead Lettuce.
And don't forget to clean up your condiments. Pretty much any mayonnaise is bad for you because it's made with industrial seed oils. The only mayonnaise I recommend is Primal Kitchen Mayo made with Avocado Oil. And make sure you use low-sugar ketchup like this one made by Primal Kitchen.
Take Fruit as a Side Dish
Fruit never disappoints for any party, but it's often forgotten. Try making a red, white, and blue fruit salad with strawberries, bananas, and blueberries. Or just cut up and mix together watermelon and cantaloupe. If you want to get really creative, make a watermelon fruit bowl.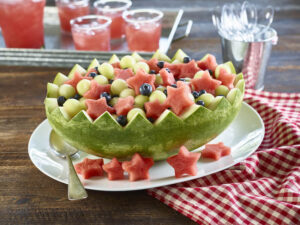 Set out Guacamole and Vegetables or Seite Tortilla Chips
Guacamole made with avocados, cilantro, and a little bit of seasoning is one of the healthiest snack/food dips you can eat. Avocados contain high levels of monounsaturated fats (good for you) and low amounts of carbs. My kids love eating guacamole with slices of bell peppers. But if you want chips, the only kind I recommend are Siete Grain Free Tortilla Chips made with Avocado Oil.
Mix Water with Alcohol
Okay, it's Independence Day, and you will probably have a couple of beers. Remember, alcohol dehydrates you by reducing the amount of vasopressin your body makes. Vasopressin causes your body to hold on to water. When vasopressin is suppressed by alcohol intake, your body creates a lot more urine, which can lead to dehydration. Make sure you drink one cup of water for every alcoholic beverage you consume.
Don't Forget the 80/20 Rule
Most of us will get 100 percent of the benefit from following our Simple 9©guidelines 80 percent of the time. That means it's okay to have a piece of mom's homemade apple pie. But make sure you avoid the store-bought pie. You have no idea what those 30 ingredients really are.
It's a holiday, so enjoy a few things you wouldn't normally eat. Remember: homemade is always better for you (and tastes better) than store bought. And the 80/20 rule is not the 80/40 rule—have a dessert in place of something else, not in addition to something else.
I hope everyone enjoys a safe and happy Fourth of July. And leave the fireworks to the professionals.
Stay Strong,
Bo Railey